You've probably noticed that we've been on a little literary events bonanza this November. Our schedule has been packed of late with book fairs, readings, and open studios. We want to thank all the authors, artists, booksellers, and yes, you readers, who made these events such a big success. Couldn't make it? Have no fear—we've got a wrap-up for you here!
We started out on November 1 with the Books and Brews Bash in Windsor at Chapter Two Brewing Company. Karl Jirgens kicked off the evening with a short reading from The Razor's Edge, then gave us a bit of humour with some of his other recent poetry and short fiction. Phil Hall read several selections from The Essential Eugene McNamara, which pleased the crowd that included many members of the McNamara family who kindly came out to show their support. He also read from the just-published book of his own poetry, The Ash Bell (Beautiful Outlaw Press, 2022). Anne Baldo read from her forthcoming book of short stories, Morse Code for Romantics—her debut collection! Scarlet from Biblioasis Bookshop was on hand to sell books to our happy guests.
Also on November 1, C. I. Matthews read from her collection Took You So Long at the Staircase Theatre in Hamilton as part of the All Lit Up Indie Reading Room series. We don't have a picture from that event, so please accept this fantastic photo of the author at the Mill Pond Gallery in Cargill, where she was working on a soon-to-be-revealed special project.
November 5 and 6 saw Wesley W. Bates holding an open studio at his space in Clifford, Ontario. The event was very well attended, and allowed those interested in wood engraving to learn more about the very exacting art form. The turnout was fantastic, and many attendees were pleased as punch to purchase their very own copies of Out of the Dark, a collection of Wes's wood engravings.
On November 23, we welcomed a large crowd to TacoTaco's Moonlight Lounge to celebrate our Fall Literary Fiesta. Karl Jirgens started out the night with bit of literary stand-up comedy to get the crowd engaged, before reading from my personal favourite story in his collection The Razor's Edge, "Understanding the Sounds You Hear". Ross Breithaupt treated us to the first chapter of his debut novel Midland, enlivened by a little impromptu singing. Then Susan Glickman treated us to a reading of "Found Money" from Artful Flight, and impressed the pants off of all of us with her effortlessly top-notch reading chops.
After a short intermission, Ed Seaward introduced us to the unique and heart-wrenching character Eyan from his novel Fair. Then Bruce McDougall had us all in stitches with his reading of "Gimme a Break" from his latest collection Urban Disturbances. Finally, Daniel Bryant rocked the house with his musically enhanced performance of "Ghost Note" from Rerouted. Listen to a version of that below! (Note: it is a little bit sweary.)
We are so pleased to have had such great attendance for all of these events. It surely makes all the hard work and preparation worth it to have so many happy campers!
What's happening this month…
At PQL.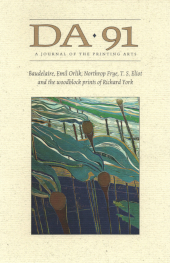 There's a lot to be excited about this month at the Porcupine's Quill. Print and digital editions of the latest issue of the Devil's Artisan (DA 91) are now available for purchase. This edition explores, among other things, the work of contemporary woodblock artist Richard York, who we are looking forward to meeting this month at a number of events in Toronto. (More on that below!)
Next on the press will be Jeffery Donaldson's Granted, a collection of poetry that explores the concept of metaphor in its many incarnations. Some of the poems are more cerebral, while others convey vivid emotion. Avid readers and writers alike will find much that informs, interests and inspires in this collection, so do be sure to check it out!
In Toronto.
Richard York will be participating in a number of special events this December. On Friday, December 9, he will be presenting an artist's talk at the Mira Godard Gallery. Then, on Sunday, December 11, he'll be attending the Bound Book Arts Fair at the Arts and Letters Club. He'll be back at the Club on Monday, December 12 for another presentation of his work.
In the world.
December 21 is Crossword Puzzle Day. A great day to exercise your noggin and keep that grey matter from turning to mush!
December 24 is National Chocolate Day. An excuse to eat Christmas chocolates? Count me in…
December 26 is National Candy Cane Day. I guess it makes sense that you might want to leave your tree perfectly decorated until the day after Christmas. If you can resist the temptation to gnaw on a candy cane or two before that.
From the porcupette's corner…
As you can probably guess, your porcupette was very much preoccupied with the logistics of all those bookish events this month. But now my thoughts are turning to a satisfying seasonal tradition here at the Porcupine's Quill: the PQL Holiday Giveaway!
That's right, all month we'll be giving away print copies of books, digital copies, and book bundles, as our way of saying thank you for supporting us for another year. Be sure to follow us on social media, on the blog, and in your inbox to make sure you don't miss a freebie!
We hope you enjoyed this recap of all of the fantastic and fun events we were pleased to host this month. For those of you we were able to meet, thanks so much for coming! For those we did not, we hope to see you next time.
Cheers,